With the coming of COVID19 the demand for Live streaming has gone up manifold and there is no dearth of Live streaming platform. But if you are looking for a white labelled live streaming platform for yourself or want to get one built for your business you have to take into consideration your long-term goals and features you want to meet those goals and lastly a team that can provide you with the application you need, either custom made from scratch or tweaked for your need.
In this post we will look at points that can help you choose the best solution for your Live streaming needs.
1.

             
Identifying Your Target Audience Goals
Any solution that we build is for a certain target audience and understanding their needs is the first step to know what the solution should have. But target audience is not just about gender and age groups, it's deeper than that. Target audience need not always be external as a lot of times as a community, organization, group, etc we are looking for a solution for our internal audience
Few pointers to know about your live streaming application's target audience goals:
a)    What is the problem / goal that my audience is facing / want to achieve?
b)    What are the secondary issues or challenges?
c)    What are the solutions that have been tried and why they did not solve the issues?
Understanding what your solution is for and what are the gaps in the solutions already tried and rejected by the audience you get a fair bit of idea of what and who is the solutions' target audience.
The entire process of identifying goals or defining the problem statement gives structure and act as the skeletal system for the things to come ahead. It helps you in identifying challenges that can be explored in-depth which the previous solutions missed out on. To define your goals, you'll need to establish what stage your audience is in your funnel.
As the buyers move from the top to the bottom of a funnel, they transform from problem-unaware to problem-aware, educated, and then ready-to-buy.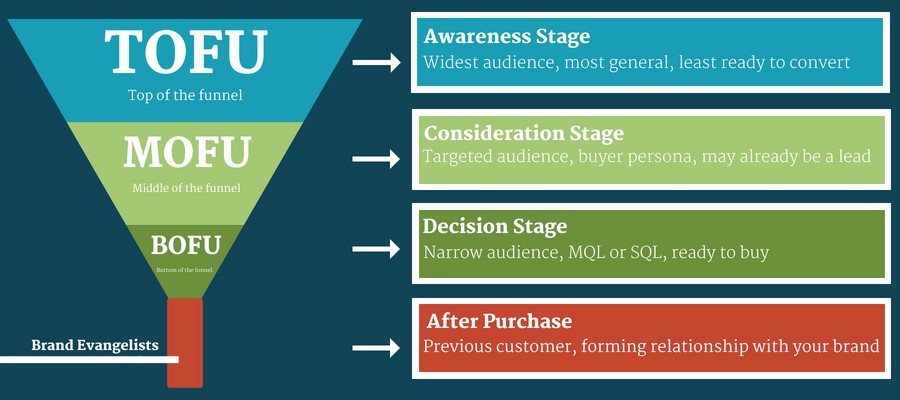 The type of goals vary from one stage to another. If you don't have many users for your Live streaming solution then you will have to look at content, reasons, features to attract them. Let's look at some of the generic goals for each stage of the funnel 
TOFU
Audience growth
Increased views
High engagement
Watch time
MOFU
Audience growth
Increased views
Watch time
Click – through
BOFU
Increased views
Conversion rate (number of views to sign-up, sales, etc)
Depending on what stage of the funnel you are in and what is the goal that you are trying to achieve you can come up with a decision what solution you are looking at. At times going with an Off The Self Solution can help you achieve your goal faster as compared to building one, but if the goal is different and you are at a stage in the funnel where you are now looking for a custom solution and not something that is generic then you will need to get a Live streaming application built up that covers your requirement.
2.

             
Research Your Competitors Live Streaming Platform 
It is always good to understand what your competitors or counterparts are doing. This not only at times give idea about what the audience is looking for but also what are the gaps that can be covered to keep yourself one step ahead of the competition and also give a solution that your audience is looking for.
Few pointers that you can use to analyse your completion are
a)

   
Identify Their Platforms
Looking at and understanding what are the platforms that your competition / counterparts are using gives a fair deal of idea how you should progress. The same thing might not work out for you but knowing what are the pro and cons will surely help you arrive at a better decision.
b)

  
Find Out Their Funnel Position
Knowing where your competition stand in the funnel helps you give perspective about the platform and solutions they are using. If the you are at a different funnel position, then the approach needs to be adjusted accordingly.
c)

   
Research their Monetization Strategies
Selection of Live streaming solution at times is also dependent on if the solution matches your monetization strategy. Have a look at your competitors and find out their monetization strategy as that will help in understanding and choosing the right solution / platform. Things like pay per view, paid private sessions, etc are monetization features that you will need to look into.
d)

  
Conduct a SWOT analysis
SWOT stands for Strength – Weakness – Opportunity – Threat and SWOT analysis will help you to see these four areas from perspective of your competitors and counterparts. SWOT analysis done right can help you to not only decide on the solution / platform you should go with but also how to position your Live Streaming solution in front of your target audience.
3.

             
Match Your Goals with The Features You Need
Now as you have your goals defined and have done competitor analysis, it puts you in a good position to define what features you will be require in your Live streaming application that will help you achieve your goals.
Let us look into some of the features of a live streaming platform. The list is quite comprehensive though not a complete list, but you can use it as a guideline for your own application / platform.
a.    Content Management System (CMS)
CMS as the name suggests is a backend system that provides functionalities like managing content, users, reports, storage, access etc. An elaborate CMS helps in easy and better management of the entire platform.
b.    Monetization Options in Live Streaming Platform
For most of the business monetization is a core feature as it forms the base of the business. Options to generate revenue through features like pay per view, subscription, buy time, VIP options, etc is a core feature for any Live streaming application.
c.     Monetization through Auto-record and Auto-Image-Capture
Live streaming application should have the option to Auto-record as well as take auto screenshots that can later be used by creators to make recorded videos and selected Images available to their subscribers via Video on Demand (VOD) with the option to monetize the content created once.
d.    Multi Payment Processing Option
Business related to Live Streaming platforms cannot be looked from a local audience perspective, instead it should have a global approach. Multiple Payment processing options along with option for global payment facility is a must to not miss on wide customer base as well as provide easy to use payment solutions to everyone irrespective of the geographic position.
e.    Notifications 
With more and more handheld devices as well as easy access to emails, notifications play a very important role in good attendance. Go Live notification or new content availability notification in form of alerts will keep the customer engagement going.
f.      Branded White Label Fully Controlled Platform
Off The Shelf live-streaming platforms generally are not White labelled and they do not allow streaming from your own site. While there is less effort from perspective of managing the site but there are certain limitations that is not what all broadcasters look for. 
–          A major limitation on most Live streaming platform is related to limitation on the amount of viewers as well as amount of data going in and out.
–          Storage of content is another limitation and the cost goes on increasing as you move through the funnel.
–          Moving ahead in the funnel is also dependent on the amount of information that you can access as creators. Most Live streaming platform limit the information access to something like seeing just the screen names. Marketing campaigns and growing your user base depends a lot on such information as well as linked analytics. A major pain area as you will never have your own audience information to be used for your business.
–          Using live streaming platforms also limits the organic brand exposure. If you are streaming directly from your branded domain position you as a reliable broadcaster.
–          Through your branded platform you can offer better experience to your user based on your audience and feedbacks. Whereas your hands will be tied in case you are using a non-branded Live streaming platform
Tecziq Offers white labelled branded Live streaming solution. Anyone can start their own branded Liver streaming platform without any coding or Streaming technical knowledge. Our team at Tecziq discusses your requirements, proposes solution and can make your platform Live within 72 hours with your own Branding.
g.    Registration and Controlled Access
The platform should provide registration facility so that as broadcaster you can get more information of your user as well as provide access control to the broadcasters on your platform. There has to be facility in the platform that gives your audience i.e. broadcasters and viewers the flexibility to manage the Live streaming to be either have restricted access or open for all.
h.    Live Chat
Apart from Live Streaming users now are looking for Chat facility. It can be with the other people in the group or with the broadcaster, but it is a must have feature to keep the audience engaged as well as give opportunity to the audience to interact.
i.       Private One to One Sessions
Apart from simple Live streaming there has to be different option in the platform like One to One private streaming. In lot of cases apart from One to Many streaming a private session is required. Having this feature can also act as a monetization option in cases like Personal trainer personal session, personal tutor session, etc.
j.       Emojis – The New Expression Tool
During Live streaming audience generally want to express their feelings and with the presence of emojis it is much more convenient and more engaging. It also gives a visual to the expression that your audience want to convey to the broadcaster. A simple yet powerful engagement feature.
k.    Promotional / Landing Page Creation
Informing audience as well as driving engagement to an upcoming Live streaming event requires Landing page creation. One of the features that can be provided in the CMS is creation of Landing page which should be easy to use.
l.       Link Your Live Streaming to OTT Apps & Other Platforms
As a broadcaster you will not want to miss on the audience which are not on your branded platform but on other OTT apps or Live streaming platform. So your platform should have the option to link Live streaming to such OTT apps and Live streaming platforms.
m. Performance and Availability
Getting a Live streaming platform up is just half the job done, the other part is to confirm that it is available whenever required and provides good performance experience to the broadcaster as well as their audience. Choice of right technology, server and continual improvement based on user load, simultaneous streaming, etc. are some of the features that remain behind the curtain but are the heart of the platform. Deciding on a platform you should have these sorted out.
n.    Tech Support
Just like any platform. Software and application assume there will be glitches, areas of improvements in your platform as well. Go for a platform or team that can provide you with a round the clock Technical support. A global platform will need a very good technical support team.
o.    Analytics
A famous quote goes like "You will not know how to reach your goal if you do not know where you are at the moment", this is where analytics plays a major role. Analytics with respect to engagement, user, sales, etc goes a long way in establishing your brand by understanding the improvements that need to be implemented.
The above list of feature is not exhaustive but these cover a major set of features that your Live streaming platform should have.
4.

             
Let's Take Your Live Streaming Platform to the World
The above steps clear your goals, make you understand your competitors, help to decide what you want i.e. a subscription based solution or your own branded platform, monetization plan and also gives a good starting point for the features that you can look out for in your platform. It's time to go Live.
This is where you can leverage our experience related to Live streaming. At Tecziq we have taken care of all the aspects and features of a Live streaming platform and more so provide option for customization so that the final product is your own self branded platform aligned to your goals. Discuss your Live Streaming requirement with our experts and Go Live in no time.
Success of Live streaming application depends a lot on getting the word out. Digital marketing team at Tecziq can help you with branding and marketing your platform to your target audience.
You can connect with us on sales@tecziq.com and info@tecziq.com and one of our Live streaming experts will get in touch with you to take you Live.