Ecommerce Mobile App
WordPress is the most widely used platforms for CMS all over the world. Woocommerce is an extension of wordpress that is used for e-commerce. With tons of features, ease of use, thousands of free modules catering to multiple business needs and ease of development; woocommerce just like wordpress is a favourite platform to build your ecommerce application.
Woocommerce has a staggering 26% market share in terms of the overall ecommerce platform followed closely by Shopify. In recent times people have moved from online shopping on desktop / laptop to online shopping via mobile. Mobile commerce has gained stronghold due to high smartphone penetration.
The importance of having an ecommerce mobile app to increase market penetration to grow your ecommerce business has increased manifold in the recent past. If you already have an ecommerce website built on woocommerce then it becomes quite easy to get the mobile application made for your business.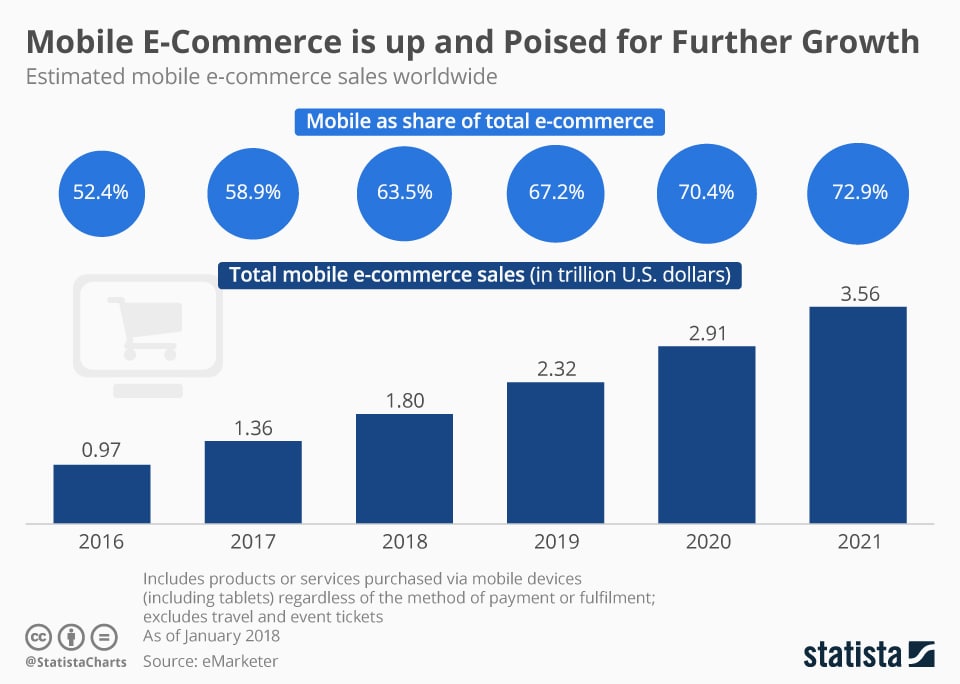 Let us look at the things that are required and that should be included in a Woocommerce mobile application
Mobile app development expertise: You can either have an internal team that is well versed with mobile app development or you can outsource it to an external vendor who have experience of building mobile application on both android and iOS You need to be aware that the mobile application needs to be built on both the platforms to capture the entire market.
UI/UX clarity: Mobile commerce gives the user the independence to shop from anywhere and even on the go; so care has to be taken from UI/UX perspective to make the shopping experience a very quick and short process. Buyers today want the whole experience to be very easy right from opening the app to getting to their products and completing the buying cycle; so the mobile application cannot be a replica of website, instead it has to be thought of clearly
Backend Infrastructure: Mobile application talks with the website through APIs. It takes information from website and shows to users and takes the information related to buying back to the website. This to and fro of information needs to be presenting a very fast and smooth solution and this depends a lot on a good and well thought of infrastructure which not only caters to current position of website and application but also from future perspective like increase of users, products. Multi user buying load, etc
Mobile specific discount: To encourage the users to move to mobile your ecommerce mobile application you need to incentivise them through discounts and offers that are mobile app specific. The mobile application needs to have banners and CTAs that talk about these offers
Live Sync: A lot of times users move from one platform to another like from website to android mobile application and maybe later move to apple mobile. In such cases the information of users should be synced and there should not be any gap else the customer will lose confidence and might feel cheated. So all the cart items, orders, address, wishlist, etc. should be in sync between different platforms
Variable products and product options: the mobile application should be built in a way that it can cater to variable products as well as products with multiple options. A lot of time this is missed during development and leads to rework
Payment Gateway: Depending on the payment gateway already integrated in the website the same should go on the ecommerce mobile application. One major thing to note is that for downloadable products apple has made it mandatory to have apple pay.
Backward compatibility: The application should always be developed on the latest stable version of the android and ios platform but what needs to be taken care of is the backward compatibility of the application with the previous versions of iOS and android as lot of your existing and potential customers might not be on the latest version and still using a previous generation device that cannot be upgraded.
Push Notifications: We all love to know if there is a new Discount coming up, or the order that we placed yesterday has been shipped, or a product that I was waiting for is now available. This is where push notification comes into play in ecommerce mobile application. They are a value addition and inform your customers about the major things happening in your online store or in their purchase cycle. They do not have to open email or even the application, push notifications show up even when the app is closed so that your customers do not miss on anything.
Most of the small and midsize ecommerce business owners prefer to outsource the work related to web and mobile app development to outside team so that they can focus on the core business. At Tecziq also we have collaborated with lot of businesses and we work as their technical partners for development, upgrade and maintenance of the web and ecommerce mobile app.
With past experience of developing lot of ecommerce applications, we have automated the process and now we can convert your woocommerce website into woocommerce mobile app within 24 hours. Moreover, we have also developed expertise to convert Opencart based ecommerce platform to android and iOS based ecommerce mobile app.
You can get in touch with Tecziq on sales@tecziq.com or you can fill in our contact form and we will get back to you with 16 hrs.
Connect With Us To Discuss ODC
Get dedicated team who works as your extended team!